AUGUST 24-27, 2017:
Alberta, Canada
FOUR-DAY INTENSIVE!
DISCOVERY SERIES IN CANADA!
Four years have gone by since we did the very popular
DISCOVER SERIES - a 4-day intensive with KRYON.
This year it's in CANADA for the first time, with

LEE CARROLL - DR. AMBER WOLF - SHAMIR LADHANI


CANADIANS LOOK!

You can pre order the Newest Kryon book
and it will be waiting for you at DISCOVERY.
PLAY VIDEO!
Dr. Amber Wolf Presents
SEPTEMBER 9 & 10, 2017:
Bavaria, Germany
TWO WONDERFUL DAY EXCURSIONS!

SATURDAY:
RETURN to the Salt Mines of Berchtesgaden

"Awakening Love & Compassion"
,
Two Groups this time...


SUNDAY:
Cruise on the Chiemsee

"Integration of the Female and Male Energy"

One of the most beautiful lakes in Germany!

KRYON CHANNELLING and Meditations
throughout...

LEE CARROLL - DR. AMBER WOLF - ANDERS HOLTE


Momanda.de
SEPTEMBER 29 - OCTOBER 21, 2017:

INDIA AND TIBET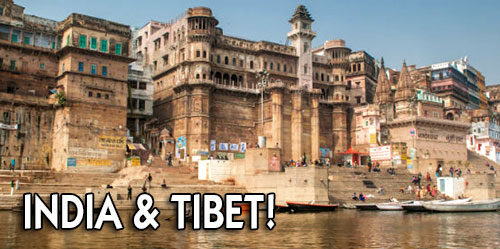 Three segments to multiple places in India and Tibet
Kryon channelling throughout

POWERFUL!


CLICK FOR VIDEO FROM LEE!


LOOK: LOCAL MEETINGS ALONG THE WAY:

Delhi Oct 2
Metropolitan Hotel 14:30-18:00

Varanasi Oct 6
Ramada Plaza Hotel 18:00-21:00

Dharamshala Oct 9
ITC Fortune Park Moksha 14:30-18:00
PRICE per person: $ 90 USD


Full Event Info & Registration email:
contacto@tierrasur.cl

OCTOBER 28-29:
Buenos Aires, Argentina

THE GRAND RETURN TO ARGENTINA!



KRYON RETURNS TO ARGENTINA AFTER 4 YEARS!
It's time to go back, and these two days will be a wonderful
return to Buenos Aires. The meeting will feature Prageet Harris
of STARGATE, Kahuna Kalei from Hawaii, and special music from Latin
America - Lucas Cervetti and Gilda Tamasini.

For full information, please email:
kryonlatinoamerica@gmail.com
NOVEMBER 18-19, 2017: Philadelphia, Pennsylvania

Saturday
-
Sunday
- 10:00am to 5:00pm

LUNCHEON SEMINAR


SATURDAY:
UP CLOSE w/Kryon Seminar

"THE BEST OF KRYON"
LEE CARROLL Lecture and Channelling day
Special appearance by Dr. Amber Wolf

EVENING: LEMURIAN SISTERHOOD MEETING
SUNDAY:
Inner Active
Workshop

"New Energy - New Human"
Lee & Amber Wolf presenting together + KRYON



Global Heart Connect
DECEMBER 20-22, 2017:

RETURN TO LEMURIA

THE BIG ISLAND OF HAWAII AT CHRISTMAS!
AN AKASHIC AWAKENING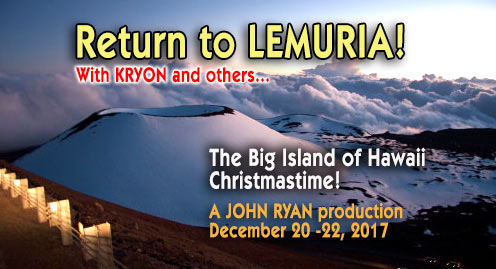 Teaching - Healing - Channelling
Excursion to the volcano - Dolphin Swims
Kryon channeling throughout

Lee Carroll - Robert Coxon - Dr. Amber Wolf
Dr. John Ryan - Kahuna Kaleiiliahi - Prageet Harris.

Dr. John Ryan
MAY 8 - 21, 2018:
UNITED KINGDOM & SCOTLAND
THE MAGIC OF THE UK AND SCOTLAND
AND A CHOIR TOO!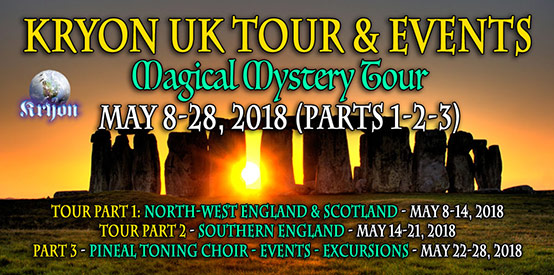 THREE PARTS - including:

LAKE DISTRICT – MAYBURGH HENGE – LONG MEG & HER DAUGHTERS – CASTLERIGG – EDINGURGH CASTLE – TEMPLE (BALANTRODOCH COMMANDERY) – ROSSLYN CHAPEL – ARTHUR'S SEAT – BATH – GLASTONBURY ABBEY – THE TOR – CHALICE WELL – UFFINGTON WHITE HORSE – AVBURY LANDSCAPE TEMPLE – SILBURY HILL – WEST KENNET LONG BARROW – STONEHENGE – SALISBURY CATHEDRAL
WINCHESTER CASTLE

(Look - Private time at Stonehenge!)

Shaloha Productions, LLC
OCTOBER 25-30, 2018:
RAPANUI - CHILE

RETURN TO EASTER ISLAND!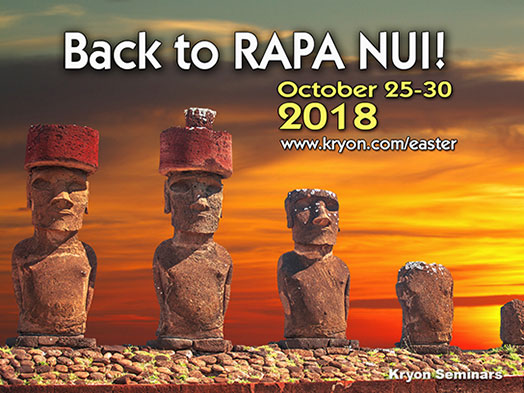 By popular Demand!
Return to one of the most remote
and mysterious islands in the word.

We did it in October 2014, and we are now doing it 4 years
later. If you are an adventurer, you are going to love this!

See the 2014 Video!


www.visitchile.com/en/