LOOK! Great New "Beginnings" TV Shows!
Here is a TV show series that features classic interviews with some of the most popular teachers and presenters in esoterics and science. These are 90-minute + shows that reveal personal pasts and experiences that are often completely unknown. They are funny, exciting, and sometimes reveal profound stories of what has happened in the past. The are streamed live from a LA Studio w/live audience. LOOK! The first one is FREE!



2-hour pilot show w/Gregg Braden - FREE
These shows rent for $12 and allow viewing for 120 days.
OCTOBER 18-21, 2018:
Sedona, Arizona

KRYON SEDONA CHANNELLING RETREAT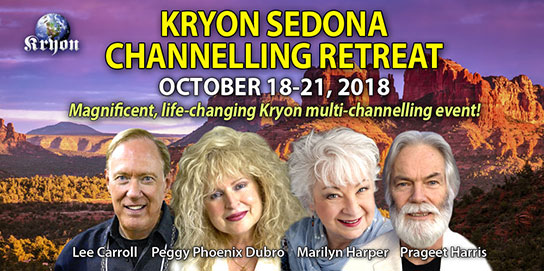 FOUR CHANNELLERS TEACHING FOR FOUR DAYS!

Join Lee Carroll for a power-packed four-day event! His guests will include prominent Kryon International Team Presenters: (1) International speaker and channel for The Divine Feminine; originator and teacher for the comprehensive work of The Lattice, Peggy Phoenix Dubro (2) International speaker and teacher - channeller. for Adironnda and The Council of Light, Marilyn Harper, (3) international speaker and teacher - channeller. for Alcazar, and creator of The Stargate, Prageet Harris.

All this, in one of the most recognized energy vortexes in the planet:
SEDONA!




Shaloha Productions, LLC

OCTOBER 26-31, 2018:
RAPANUI - CHILE

RETURN TO EASTER ISLAND!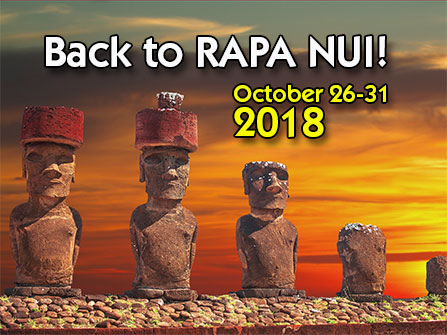 By popular Demand!
Return to one of the most remote
and mysterious islands in the word.

We did it in October 2014, and we are now doing it 4 years
later. If you are an adventurer, you are going to love this!

See the 2014 Video!


www.visitchile.com/en/
NOVEMBER 17-26, 2018:
AUSTRALIA
BRISBANE - ADELAIDE - PERTH - HOBART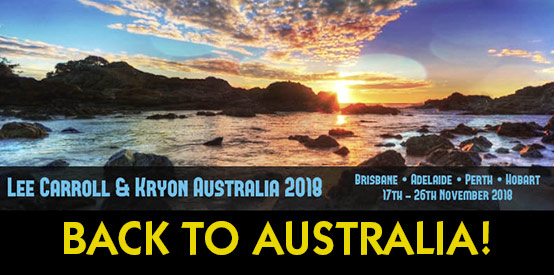 MULTIPLE AUSTRALIAN CITIES!
Join Lee Carroll and special guests in any of these listed cities.
After many years, LEE and KRYON return to some of the original
cities that were visited at the beginning of the first KRYON tour,
plus one that Lee has always wanted to experience.
BRISBANE - ADELAIDE - PERTH - HOBART

But wait! That's not all...
Along the way there are some excursions too!
Check it all out with the link below




Chris Hooper Productions

NOVEMBER 26 - DECEMBER 3, 2018:
AUSTRALIA

KRYON TASMANIAN ADVENTURE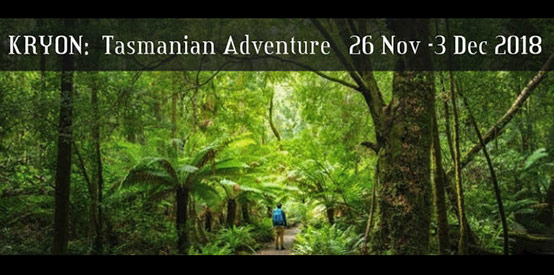 ONE OF THE MOST MAGICAL PLACES ON EARTH
At the bottom of Australian is a pristine place like no other:
It's the Australian island-state of Tasmania. This seldom visited area has
some of the most untouched forests, vast wilderness areas, dazzling beaches,
and Australia's most spectacular mountain ranges. ,
It's "GAIA HEAVEN!"
CHECK OUT WHAT WE ARE GOING TO DO!
(This is an intimate tour - registration limited)




Chris Hooper Productions

DECEMBER 9, 2018: Laguna Hills, California
KRYON ANNUAL HOME-ROOM MEETING

Sunday Christmas Seminar with Lunch



S
UNDAY
:
The Annual Kryon Christmas team
LEE CARROLL - JAN TOBER - ROBERT COXON

Event 10am to 6pm - doors open at 9am

CALL AWAKENING BOOKSTORE FOR RESERVATIONS
949-457-0797
$150 prepaid - $175 at the door

INCLUDES SIT-DOWN CHRISTMAS LUNCH

HILLS HOTEL - 25205 La Paz Rd - Laguna Hills, CA 92653
Hotel reservations 949-586-5000
Awakenings Bookstore
DECEMBER 15-16, 2018: Miami, Florida

Saturday - Sunday
With Spanish Translation

Taducción en Español




SATURDAY:
UP CLOSE w/Kryon Seminar

"NEW PARADIGMS OF EARTH"
LEE CARROLL Lecture and Channelling day

Special appearance by Dr. Amber Wolf
Special appearance by Marilyn Harper
Special appearance by author Monika Muranyi


SUNDAY:
Inner Active
Workshop

"New Energy - New Human"
Lee & Amber Wolf presenting together + KRYON


MONDAY:
Marilyn Harper - Adironnda
"How to Channel - Even if (you think) you can't"


Global Heart Connect
January 19-20-21, 2019: Melbourne, Florida

Saturday - Sunday
INTRODUCTION TO: THE LEMURIAN TEACHING WHEEL

MODIFIED TWO-DAY INTENSIVE WORKSHOP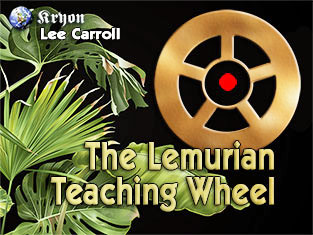 An Intensive Interactive Workshop Studying Concentrated Esoteric Information with Lee Carroll plus Live KRYON Channellings
SATURDAY:
SUNDAY
"THE LEMURIAN TEACHING WHEEL"
LEE CARROLL - DR, AMBER WOLF - MONIKA MIURANYI
MONDAY:
DR. AMBER WOLF
"Lemurian Goddess Awakening"

Global Heart Connect
FEBRUARY 9 - 17, 2019:
MONUMENT VALLEY
THE MAGIC OF THE ANCIENTS IS CALLING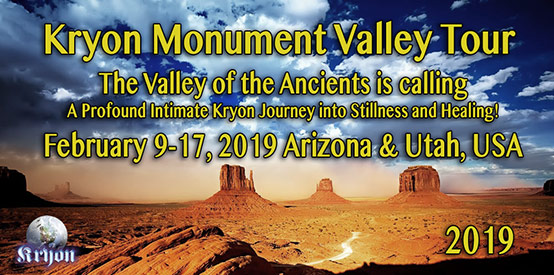 "A Beautiful Experience"
An exceptional one of kind tour to a sacred indigenous land with
Lee Carroll and KRYON. A most profoundly healing Kryon tour!
Our first tour in 2017 was so remarkable that we are offering it
again with an additional excursion to the world
famous Antelope Canyon!

Shaloha Productions, LLC
APRIL 3-23, 2019:
EGYPT
Mount Sinai - Giza/Sphinx/Pyramids
Full upper/lower Nile Cruise
AN EXPANDED TOUR - 4 OPTIONS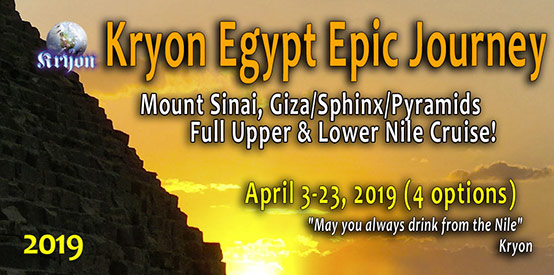 WE ARE DOING IT AGAIN!
We have been guided to continue with Kryon for a second
sacred tour to Egypt in April 2019. This tour will be an expanded
tour from 2017, and will include an excursion to Mt. Sinai
and a full Upper and Lower cruise along the Nile river.


Shaloha Productions, LLC
MAY 15-22, 2019:
THE AZORES
EXCURSION - THE AZORES IN THE ATLANTIC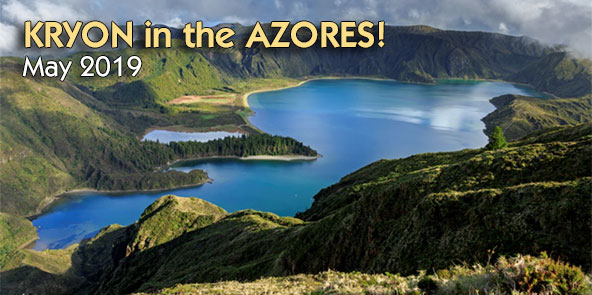 "Amazing!"
Our first excursion to the Azores in the Atlantic Ocean

ALL INFORMATION COMING SOON

Ediciones Vesica Piscis
JUNE 20-23, 2019:
MT. SHASTA CALIFORNIA
KRYON SHASTA RETREAT

Interdimensional Pleiadian Experience!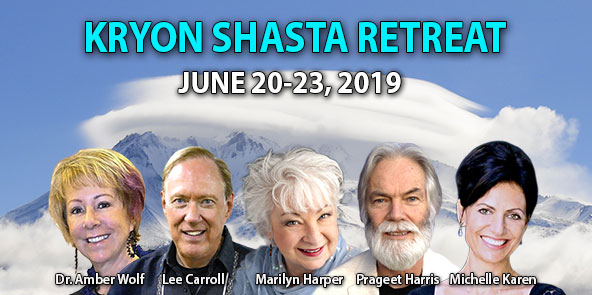 Join internationally renowned author and speaker Lee Carroll and channeller
for Kryon, as he returns after five years to Shasta for a very special power-packed
intimate four-day event! Lee will team up with the Kryon teachers and speakers:
Prageet Harris (Alcazar & The Stargate), Marilyn Harper (Adironnda &
The Council of Light), Dr. Amber Wolf (Meleha) and Michelle Karen.
Together, in one of the most recognized energy centers on
the planet and a Pleiadian NODE – Mt. SHASTA!




Shaloha Productions, LLC

JUNE 25-26, 2019:
MT. SHASTA CALIFORNIA
THE KRYON TEACHING WHEEL

CORE SPIRITUAL TEACHING OF THE PLANET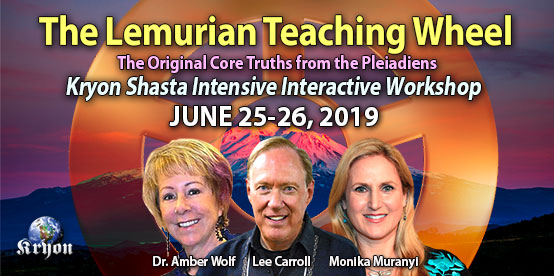 In December 2017, Lee Carroll was on the Big Island of Hawaii at the "Return to Lemuria" conference. During the loving channellings that were presented on those days, startling revelations were made about the basic core teachings from the Pleiadians given over 50,000 years ago. This was revealed as a teaching tool – a wheel with five spokes called The Lemurian Teaching Wheel.

During the conference, The Lemurian Teaching Wheel was revealed, along with what the shape represented, its proportions, the multi-level meanings of some of the parts of the wheel, and how it was taught. This workshop will be an expansion of that first teaching, to include a more interactive and focused study on each part, plus explanations about Lemuria, presented as a TWO-DAY intensive workshop.




Shaloha Productions, LLC

SEPTEMBER 11-15, 2019:
RILA MOUNTAINS, BULGARIA
PINEAL CHOIR CHOIR AND KRYON SEMINAR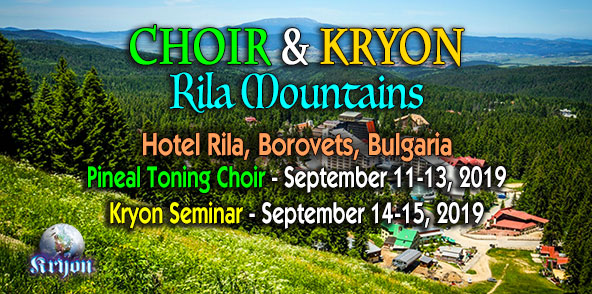 Again, we are right on one of the NODES that Kryon has indicated
are the places where the Pleadians originally landed on the
planet! RILA MOUNTAIN is sacred, and we will do another Pineal choir
right in this beautiful place in Bulgaria. A KRYON seminar follows the choir,
as we have done in the past. Channelling throughout it all!


Shaloha Productions, LLC